High-Speed Freezing Door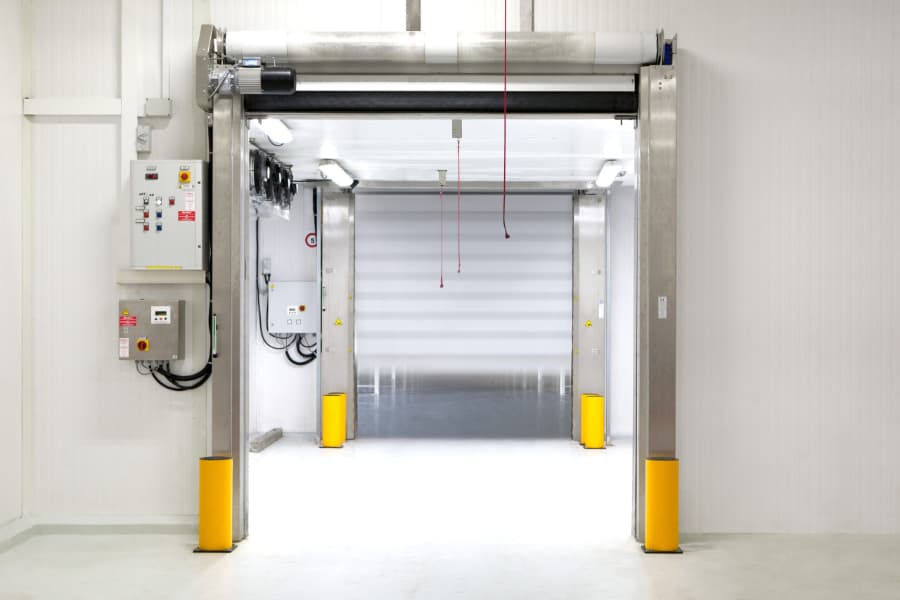 The problem: Traditional cold doors in food logistics warehouses are inefficient due to their slow opening and closing process, allowing cold air to escape. This causes uneven temperatures, resulting in product quality instability and increases in electricity costs.
Traditional cold doors often lack the technological enhancements required for modern logistics operations, leading to increased manual labour, longer retrieval times and less efficient workflows.
The solution: The new High Speed Freezing Door from Rapid Automatic Access has a fast operation to improve efficiency. The design allows for excellent heat preservation, creating energy savings and heat preservation. The door is ideal for cold storage logistics companies, warehouses, and other businesses where keeping food at the optimum temperature is vital.
Keep frozen goods frozen
In cold storage logistics, maintaining the correct temperature of frozen food items is vital.
Each frozen item has a precise temperature range that ensures its freshness, nutritional value and overall quality are preserved. Deviations in temperature can lead to freezer burn or bacterial growth, both of which can make the food unfit for consumption.
Temperature irregularities may also result in financial losses due to spoilage or product recalls. Installing an efficient, reliable cold storage door helps your business deliver excellence to your customers.
High Speed Freezing Door features
Suitable for temperatures 0°C - 25°C, the door is ideal for cold chain storage businesses. The middle of the double-layer cold storage curtain is filled with polymer insulation material to improve the thermal insulation and increase energy savings.
Technologically advanced and efficient, the door includes the following features:
Anti-frosting properties: The soft curtain combined with heating on three sides of the door prevents frosting from occurring.
Anti-collision recovery: Accidents can happen in cold storage facilities, including people or light vehicles colliding with the cold curtain. The High Speed Freezing Door automatically recovers in the process of rising without any requirement for intervention or repair, meaning less downtime and reduced repair costs. Infrared protection and a soft anti-collision design structure effectively guarantees the safety performance of the door's operation.
Save electricity and reduce operating costs: Fast operation saves refrigeration running costs.
Improve work efficiency: The High Speed Freezing Door has a running speed up to 1.6m/s and closing speed of 1.6m/s compared to the average running speed of traditional cold storage door of 0.3m/s.
Protect the evaporator: The door can lower operating costs by reducing corrosion of the evaporator caused by warm and wet air
The door's reliable operation has a low failure rate.
The control system provides smooth, reliable operation with features including:
Timing de-icing function
Two open height modes
Delay automatic closing - no need to close manually
Can be linked with other equipment.
Rapid Automatic Access creates innovative and reliable solutions to make your life easier and secure. We service and work with all major brands and products and are complaint are Operating System ISO 9001.
For more information about the High Speed Freezing Door or any other Rapid Automatic Access product please contact us.