High-Speed Aluminium Spiral Door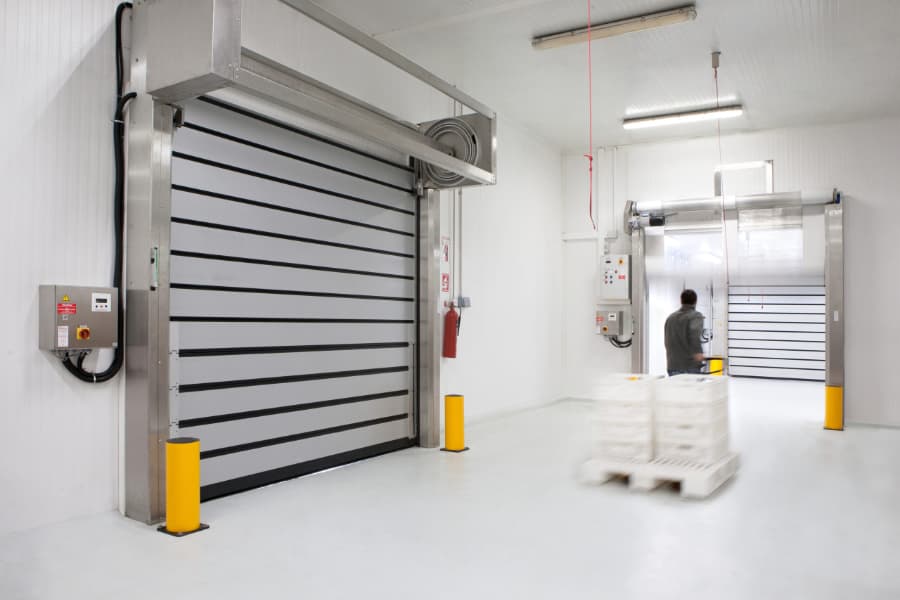 Discover a new standard of industrial door technology with the new High Speed Aluminium Spiral Door from Rapid Automatic Access. Lightweight and strong, the metal sectional door provides security while allowing natural light in, providing an attractive entrance for your business.
This durable, highly efficient industrial door combines security with features including:
Insulation
Heat preservation
Secure sealing
Able to withstand wind speeds of up to 120km/h
Easy to operate and trouble-free operation.
With a maximum opening speed of two metres per second the door is suitable for frequent high-speed use, accelerating your production and logistics transfer speed, saving time and costs. Our High Speed Aluminium Spiral Doors reduce energy losses caused by air circulation by approximately 80 per cent compared to ordinary industrial sectional doors and rolling shutter doors.
The non-contact winding method produces almost no wear on the transparent door strip, thanks to the door slats being placed in the spiral guides.
Functionality and resilience

The door panel is crafted with a 0.7mm aluminium plate and fortified with a core of polyurethane foam. The door panel's specifications include:
Total thickness: 40mm
Width: 220mm
Weight per metre: 1.63kg.
The door's construction ensures superior insulation and lightweight design, while maintaining high strength and impact resistance. The high-speed doors have a grade 12 wind resistance and anti-theft features, making them an unbeatable choice for both indoor and outdoor applications.
Engineered to handle the demands of your business, the High Speed Aluminium Spiral Door from Rapid Automatic Access are designed to endure the rigours of high-traffic environments. The door's transparent slats provide clear visibility to enhance safety when vehicles are entering or exiting.
State-of-the-art technology combines with superior performance to provide an impressive capacity of up to 100,000 switches within a single maintenance cycle. That means it can undergo up to 100,000 turn-on and turn-off times before having to undergo regular maintenance. The low maintenance requirements save you money and time, making this asset a cost-effective security purchase for your business.
Contact us to find out more
Rapid Automatic Access: Excellent service every time
Our team of honest, reliable experts work across Sydney, Melbourne, Brisbane and NSW-wide providing customised solutions to make your life easier and more secure.
When you choose Rapid Automatic Access, you are not just investing in security technology. You are investing in a partnership that guarantees reliability, superior performance, and a sense of confidence in the day-to-day operations of your business.
Our trusted team will install your new system efficiently and reliably, and all work comes with a lifetime warranty.
Contact us today to find out how you can increase efficiency and security in your business.