Case Studies
Automatic access gates and door solutions have become an essential feature for modern businesses that require reliable and secure access control systems.

In our case studies, we have seen a variety of businesses benefit from our installations. For example, some recent projects we have worked on include:
a large distribution center that we installed access gates for reported a significant increase in efficiency, as only authorised personnel could enter the facility.
a medical office we worked with installed automatic doors to increase accessibility for patients with disabilities, which improved their overall patient satisfaction ratings.
a luxury apartment complex that we provided access control solutions for reported a decrease in unauthorized entry and improved safety for their residents.
These case studies demonstrate the wide range of benefits that automatic access gates and door solutions can provide for businesses and their customers.
Below are some others cases in detail.
---
Snack Brands Food Processing Facility, Smithfield
High Speed Doors
Snack Brands Australia produce some of Australia's favourite snacks including; Kettle chips, Cheezels and CC's. When their factory in Smithfield Sydney needed an upgrade, they turned to our expert team at Rapid Automatic Access.
The food processing factory needed new high-speed doors and roller shutter doors. This was a challenging installation for many reasons, yet our team at Rapid was committed to providing the highest standard of work within a tight deadline.
The bespoke loading dock, which was being extended to allow for new conveyor equipment to double the productivity of the losing procedure, required a new Rapid PVC curtain door to comply with Australian health and safety regulations. With a shutdown period as tight as they come and no room for mistakes, Rapid not only achieved the installation to the highest standards, we also removed, relocated and extended the roller shutter door on the opposite side of the rapid door at the same time.
Focused on safety and efficiency, our team coordinated these installations side by side, not phased by the operational difficulty that was presented. The meticulous planning and communication ensured the success of this project, leaving the customer with no worries on completion and allowing them to focus on other optional challenges of their own during the shutdown process over the 2 day period.
We also had to deliver and store the cargo on site, so there was a high level of coordination needed with their Project Managers. Our team carefully planned the entire operation, so everything was completed without a hitch.
Our team is committed to safe working procedures. No matter the environment, we always ensure safety is the top priority. With this project, our team delivered everything exceeding our customer's expectations while working safely in a high-pressure food processing environment.
If you are looking for new access control systems for your plant, please get in touch with us today.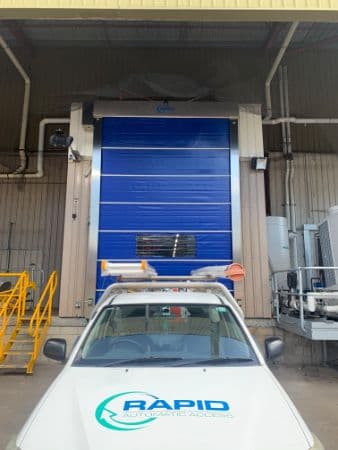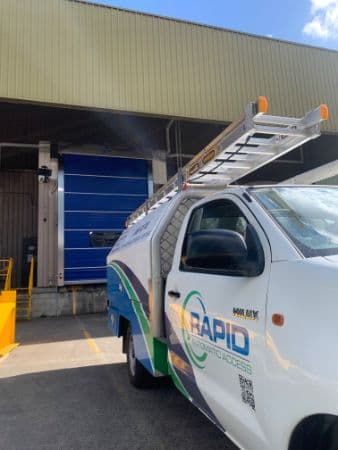 ---
Undisclosed Military Base in Sydney
Security Gate Installation
Securing a military base might sound ironic. However, this is exactly what we were appointed to do for an undisclosed location in Sydney. This installation was a high stakes endeavour, to ensure that one of Australia's military bases was secure, and the functionality was to mirror the highly organised nature of Australia's Defence Force.
To ensure all specifications were met and even exceeded, we offered a unique solution. This project was not without its challenges, although our team at Rapid was always equipped to overcome anything through our attention to detail and communication with the client. The client was delighted with our ability to produce creative solutions outside of the scope provided, backed up with extensive expertise and experience.
The automatic entrance and exit gates to the Base had to be a strong deterrent for unauthorised access to the location. We installed 2 systems to suit each location. The Entrance gate had a restricted amount of space for the sliding gate to receive into when opening. The correct gate to achieve this operation is a Telescopic Gate, to utilise the overlapping of the two gates when in the open position whilst maintaining a closed gate over 10m.
Both of these gates had the palisade style spears to prevent persons climbing over the gates, allowing a secure perimeter. These gates were designed and fabricated to withstand a vehicle collision and due to this, they required powerful motors to operate even while under tremendous weight and load. The exit gate was a one piece 9.5m wide 3m high mounted on a concrete ramp that Rapid coordinated with other trades to achieve the correct foundations for this gate to run on.
A challenge presented itself after the gates were installed, after a functional improvement was noticed by our team and the client working together. It was noticed that the operation of the system could be improved by the integration of the boom gates that proceeded each of the gates as another control measure onsite for added security.
This was no problem! In a short time, a solution was found, and the necessary works was completed. The integration from the local security hut was also extended to a security control office some 200m from the main gates. This was achieved by utilising existing cabling connecting the systems. This improved the security and convenience of operation for the customer.
As you can imagine this project was on a strict deadline with many traffic control measures in place to ensure the works were carried out safely. All of the works delivered by Rapid were completed with this timeframe with the minimum of disruption including the additional works described.
Leaving one of our valuable defence bases secure and to the highest efficiency of operation was a proud moment for our team. To learn more about how we can help you and your site, get in touch with us today.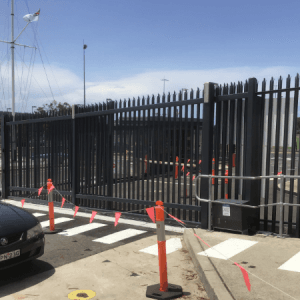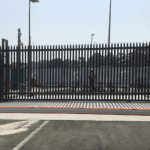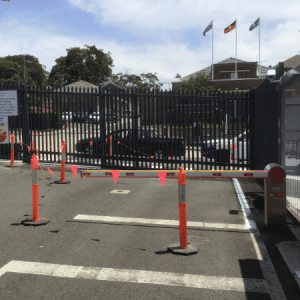 ---
WestConnex M4-M5 Link Tunnel
Pedestrian & Traffic Control
The WestConnex M4-M5 Link Tunnel project has been a much-needed upgrade for Sydney. It is easy to see why it is such a long and time-consuming project. At Rapid Automatic Access, we were brought in to manage both pedestrian and vehicle traffic, however, this did not come without its challenges.
For pedestrian safety, we supplied & installed 10 yellow pedestrian safety gates to maintain safety when trucks were coming to and from the site for the M4 -M5 motorway upgrade. We also installed flashing lights to warn pedestrians when gates were closing. Safety photo beams were installed across the pathways to prevent closure on pedestrian traffic. The pedestrian gates were used in tandem to create a safe zone in front of the site entrances in 5 locations. These were then connected to the boom gates controlling the large construction vehicles entering and exiting the tunnels for the M4 M5. Overall, we provided staff training on how to use and maintain the equipment too.
To help control the vehicle traffic, we supplied & installed 5 high duty automatic vehicle barriers to maintain a safe and controlled environment. Inground safety sensors were installed to automatically pick up vehicles when in range of the boom gates to prevent operation of the gates. We also integrated radio frequency remote controls so that security staff could remotely control the gates, which created so much efficiency for them.
This was a challenging installation which pushed us to provide a creative solution for keeping the public safe and the efficiency of the egress of site vehicles. The first challenge was to find a solution for the operation of the system without running cables in the ground, due to site access restrictions. Due to our impeccable relationship with a range of suppliers, Rapid Automatic Access was able to source a wireless interface product that would solve the issue without the need to run excess cables across the site. Not only did this solution solve the problem, it was also sourced and delivered to site the same day, where our team designed a whole new system using these products to offer the best solution to the client.
Every site or location has its restrictions regarding the general public, traffic access, or dangers local to the area. This busy site was no different. The main road adjacent to many of the site entrances would pose a safety issue whilst working near it, if a barrier area or road closure could not be put in place. Due to this some areas could only be worked in at restricted times, and this posed a challenge to mobilise our team in the most effective time efficient manner to keep to the deadlines promised.
This high pressure, time sensitive environment was no issue for our well organised team. All of these pressures were solved, and goals achieved through the constant and effective communication between Rapid Automatic Access, the client and subcontractors on site, to ensure the smooth running of the installation.
At Rapid Automatic Access, we pride ourselves on solving the most complex and challenging projects – within time and within budget.Contact us today if you need help with your next project.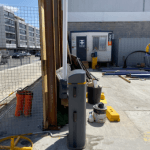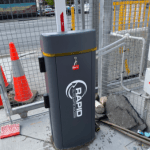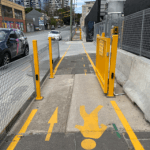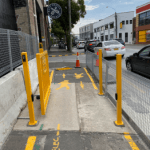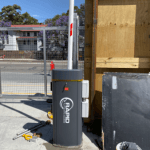 ---
Europe Car Rental
Car Park Boom Gate With Integrated Security Spikes
Airports are a busy place for controlling traffic. Vehicles and people need to be managed effectively to prevent any incidents from occurring. So when car rental experts Europe Car contacted us about their designated area at Canberra Airport, we knew we were up to the challenge.
Europe Car at Canberra Airport needed to ensure they had a secure, efficient egress pathway to prevent cars from being removed by unauthorised people. With an enormous amount of traffic flowing in and out of their car yard each day, it was important that the system could handle the daily demand.
Firstly, we installed automatic security spikes integrated with the boom gate to offer a high level of security. This immediately ensured cars could not be taken by unauthorised people. This solution was installed in preference to a sliding or swing gate, as it allows vehicles to move in and out much more quickly while still maintaining security to the premises.
We then installed a traffic light system to maintain control of the one-way pathway. The safety of both vehicle and pedestrian traffic is important. So the traffic light system reduces the potential for any unwanted incidents. Where there is shared pedestrian and vehicle traffic, traffic lights are necessary.
Radio frequency remote controls were issued to each staff member, to control the boom gate and vehicle spikes. This allows only authorised personnel to control what is happening with the boom gate and vehicle spikes. We installed a security master override keypad to control the unit from the boom gate to let visitors in. Finally, Safety Photo Electric Beams were implemented to prevent the system from closing on any cars.
Europe Car Rental at Canberra Airport are now benefiting from a quality installed traffic control system for their car park. No more unauthorised movements of their vehicles, and no room for incidents in a shared space for vehicles and pedestrians.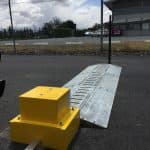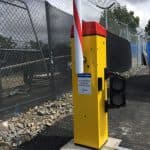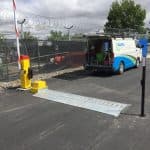 ---
Tab Corps Head Office, Melbourne
Retractable Ultra High Speed Gate
The TAB Corporate office in Melbourne is located in Docklands, a busy area with lots of pedestrian traffic on a daily basis. Employing more than 5000 people and listed on the Australian Securities Exchange (ASX), maintaining the highest level of security in this office is a must. That's exactly why they trusted their security installation to the experts at Rapid Automatic Access.
Offering a security installation that does the job, is fully automated and integrated into their existing security and access control systems while still looking aesthetically pleasing – what a task! But we were up for the challenge. We needed to offer a solution that met all these requirements yet could still handle the high pedestrian traffic flow that this site experienced every day.
A full height solution was needed, so we opted for the full height retractable barrier. For the ultimate safety of people and security of the premises, this was the ideal solution. With a slim profile, clear glass barriers, stylish and modern stainless-steel mounts – this system integrated perfectly within the current structure of the building, without compromising on the appearance of the entrance way. What's more is that our turnstiles have an average through rate of 25 people per minute!
We have turnstiles that are available in one or bidirectional models, electric or mechanical. For the TAB office in Melbourne, it was the bi-directional electric model that did the trick, as it allowed authorised people to enter and exist with the use of the existing integrated access control system. Disruption to the site was minimal. Due to our fast, professional and seamless approach, the installation was completed with minimal fuss and no down time.
When TAB needed an alternative to manned security stations, and something that looked good too, they knew that we would be fit for the task! Our turnstile solutions are used across various commercial and industrial sites to monitor their pedestrian traffic flow. So, if you or are looking for a alternate solution to your security guards, ticket takers or even simply an update to your existing security method – get in touch with us today for a free consultation to discuss supply, installation or even maintenance.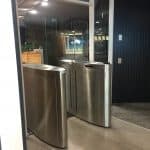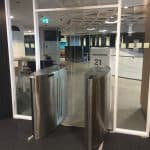 ---
Knox Grammar Preparatory School, Sydney
Traffic Management
Schools are very busy places, both for pedestrian and vehicle traffic alike. Just drive past any school at 8am or 3pm, and you will see the chaos that can happen. Knox Prep School is a heritage site and has a beautiful aesthetic, so when we were engaged to work at this school we were also advised that we need to retain this! Conducting work in school zones comes with its challenges, but due to our systematic approach and industry leading solutions, we always have the answer.
Knox Prep School needed the correct automated function to their existing iron gates, with minimal disruption to the school term, and without affecting the aesthetic appeal.
The first challenge we faced was to install our power and control cables across to 3 separate locations, up to 80m from the main school building to these locations. This was achieved by a thorough inspection and ground scan to ensure no existing services were disrupted and the well-kept sports field was untouched. Through careful planning and good communication with our client, and additional trades on site, we planned routes and civil works to achieve our result.
The next challenge was to create a solution for the mounting of our swing gate motors on to the heritage gates that were not contusive to the regular mounting methods. As our team has a wide range of fabrication skills, we easily fabricated bespoke brackets to be welded to these gates with minimal change in the aesthetic to honour our client's scope.
Traffic control was key in this installation. To keep the school children safe at all times, we put in place strict safety measures to carry out works during this time. We also scheduled effectively to work at areas with little or no thoroughfare at peak times to complete our installation without disruption.
Working with other contractors on large installations like this, it is key to have good communication and a goal to work together in support to achieve our client's goal. Our team yet again excels in this, with a goal orientated focus, we assisted and set out clear guidelines to help in the smooth installation of the systems on site as a whole.